Last year was a season of many changes for me personally and for my family. It was last January that I officially went on a a leave of absence from my teaching position, we adopted two dogs, and moved to a new home in July. My two youngest children started public school for the first time in August. Although the year found me struggling in many areas, I was also very blessed with
a new home and community that we love and a smooth transition for the boys. Last year was all about making a fresh start. With each new year we are able to make a fresh start as well. I do not make New Year's resolutions, but I do reflect and set goals for myself as a wife, parent, teacher, blogger, teacher-author.
With a brand new year upon me, one of my goals is to continue my literacy research by keeping up with my journal and professional book reading ( I am in the middle of Reading in the Wild, the follow-up book to The Book Whisperer by Donalyn Miller) and by taking two more online courses to keep my teaching certificate current. Of course, I will share with you my learning along the way!
My focus as a teacher-author will be to continue to create informative reading and literacy products as part of my Curious Kids Series for elementary teachers to use in small groups. I have been working on my newest packet about polar bears for months, and hope to have it finished in the next week or so.
As well, I will continue creating my monthly journal/writing center/workshop prompts. In fact, my January set was just listed in my store yesterday and you can see that listing by clicking on the picture below.
As a writer, I will continue to contribute to The Educator's Room, an online magazine that promotes and empowers teachers as the experts and encourages educational reform.
One brand new adventure that will debut
on Monday, January 6, is the launch of a collaborative literacy blog for elementary teachers! A group of nineteen literacy teachers, specialists, and coaches will bring you fresh, innovative, research-based lesson ideas and teaching inspirations. Click the picture below to take a sneak peek!
Thank you for another great year! I so appreciate your support and encouragement, the professional networking, and the friendships I have made. I am wishing you a blessed new year!
One last thing before I go, if you are looking for new ideas and blogs to follow, or want to share your blog, link up over at The Teacher's Chair. Just click the button below.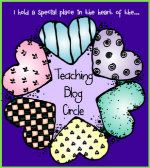 Enjoy!