The use of graphic organizers in classrooms goes way back, probably more than you think! In fact, graphic organizers were first used in the 1970's when I was in elementary and middle school. I wrote a guest blog post about some of the history and the current research over at Luckeyfrog's Lilypad. You can read that post here and grab (2) FREEBIE organizers that I created.
Since the early 1990's when I was a middle school ELA teacher, I have enjoyed creating my own graphic organizers for students of all ability levels to use to scaffold their reading and writing processes. Organizers are appealing to all students, but especially to the visual and spatial learners
.
They allow students to interact with a text by writing or drawing on the organizer during reading, which of course requires the use of different modalities and parts of the brain, and thus enhances learning. The beauty of graphic organizers is that they are versatile, as they can be used before, during, and after reading.
My newest set of graphic organizers was designed for kindergarten to grade two for literature and addresses many of the reading literature standards. They can be used with any literature/fiction text! Some of the organizers may be a little too advanced for the average kinder student, but would be useful for differentiating and offering a challenge to your advanced students. Designed with a Christmas and winter theme, this set can be used now
through
February, as I have used generic winter clip art such as mittens, snowflakes, snowmen, birds, polar bears, and more!
All organizers are done in black and white so you can print, copy, and go without worrying about using too much ink! As well, for most strategies, I have created two versions
:
one in a Christmas theme and one in a more general winter theme. See below for an example.
Same task, but different design!





Want to see this in action?
My first grade son tried a few of my organizers out for two different picture books: It's Christmas David! By David Shannon and A Silly Snowy Day by Michael Coleman
.
By the way, not only is the later an adorable book that tells a little about tortoises and a lot about curiosity, but it was the perfect book for my son since we have two aquatic turtles.
After reading, we worked on the Somebody, Wanted, But, So, Then cards that are in the packet:
My son jotted story details on each card and then color coded each card. The, he cut them apart, and placed back in order. By reading the cards, he was able to summarize the story.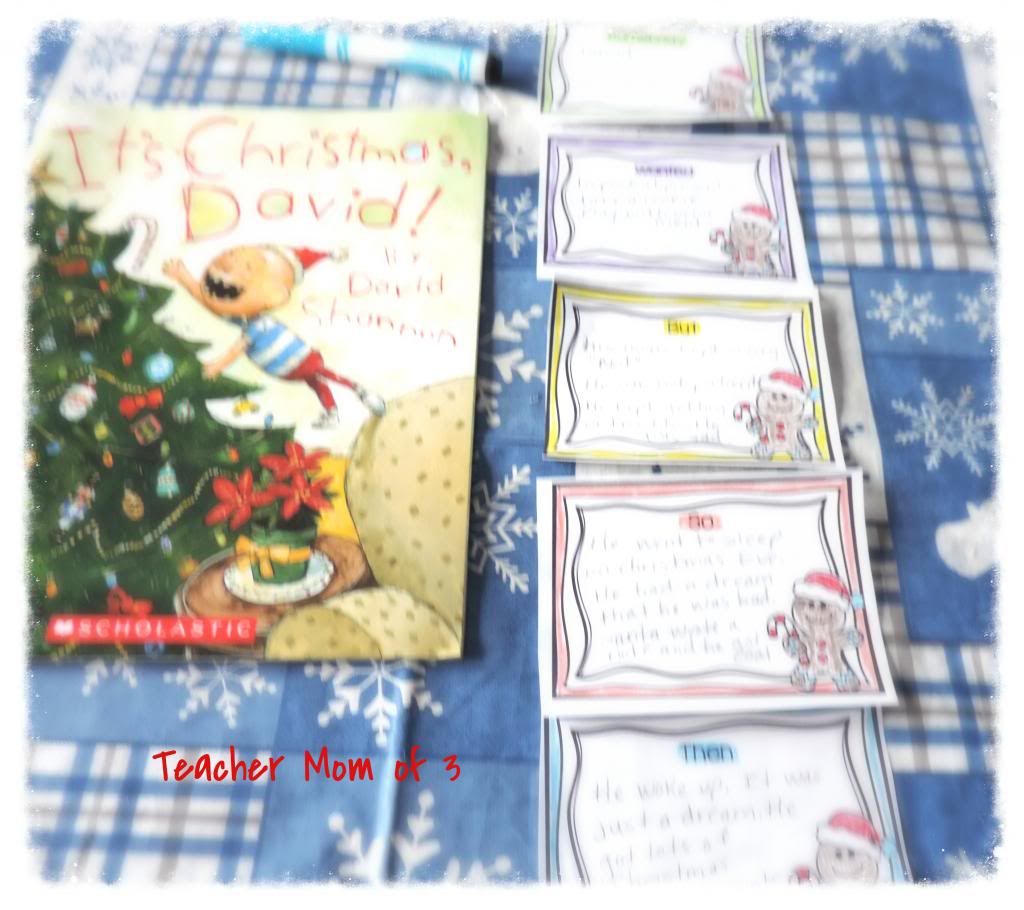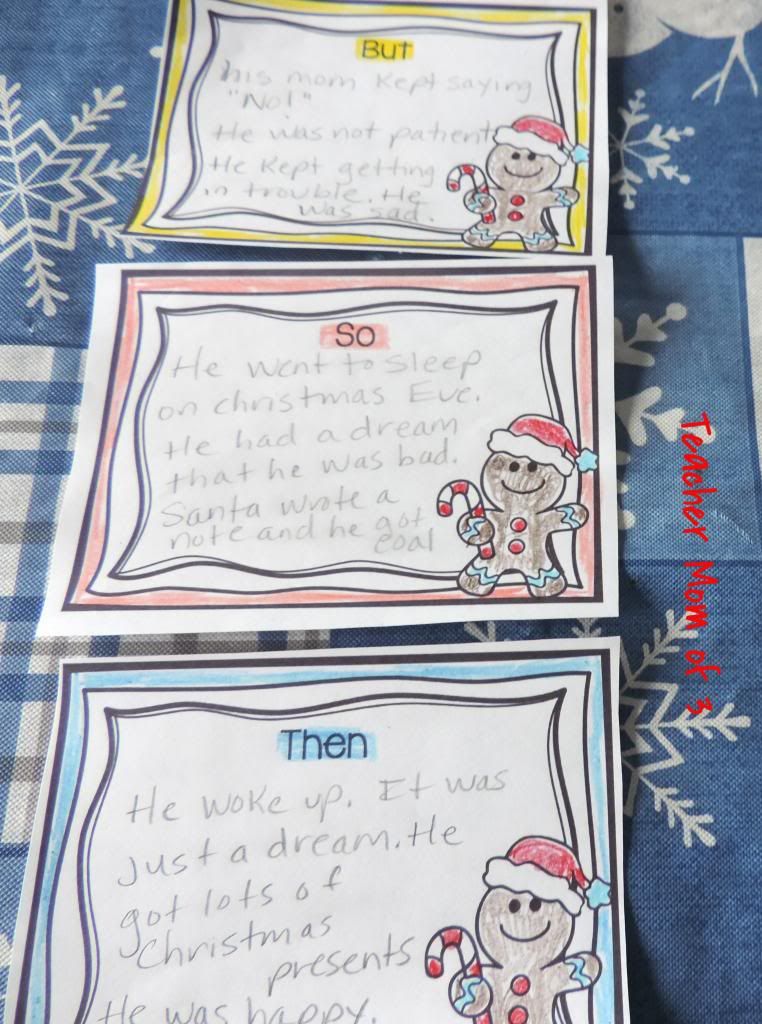 Afterwards, we took it one step further. We placed the cards in order, hole punched the corner, and then threaded a pipe cleaner to attach the pages ( you can use a ribbon, but of all things, we couldn't find where we put it!). This would make a great little booklet for students to take home to summarize and tell about a story read in class.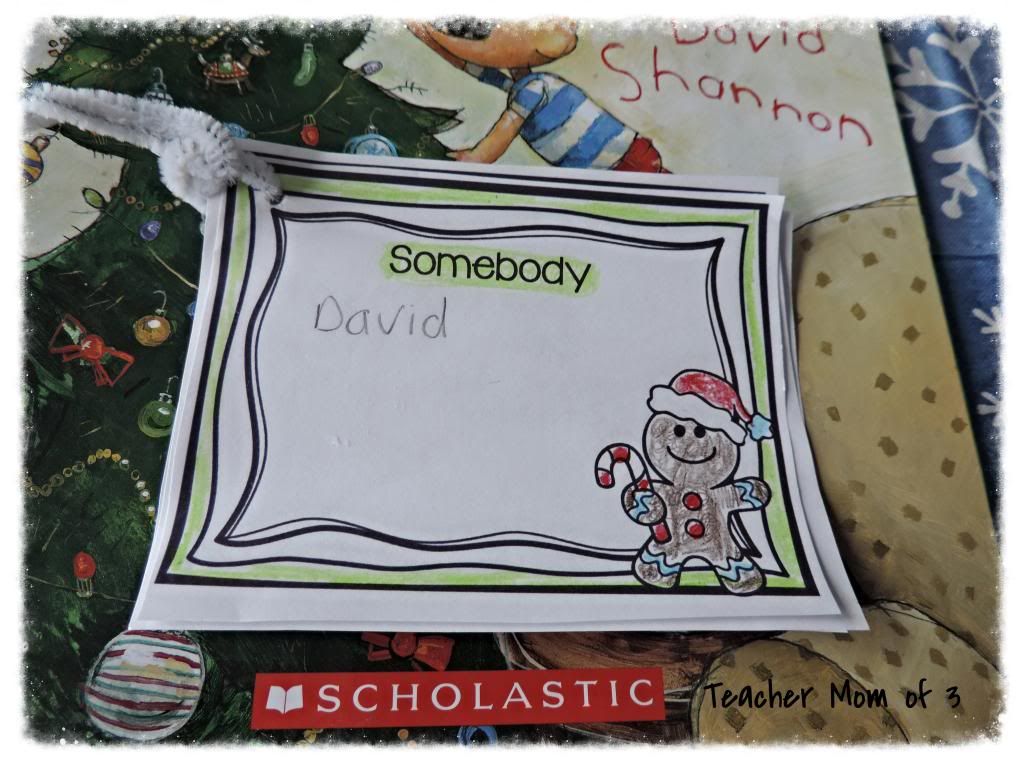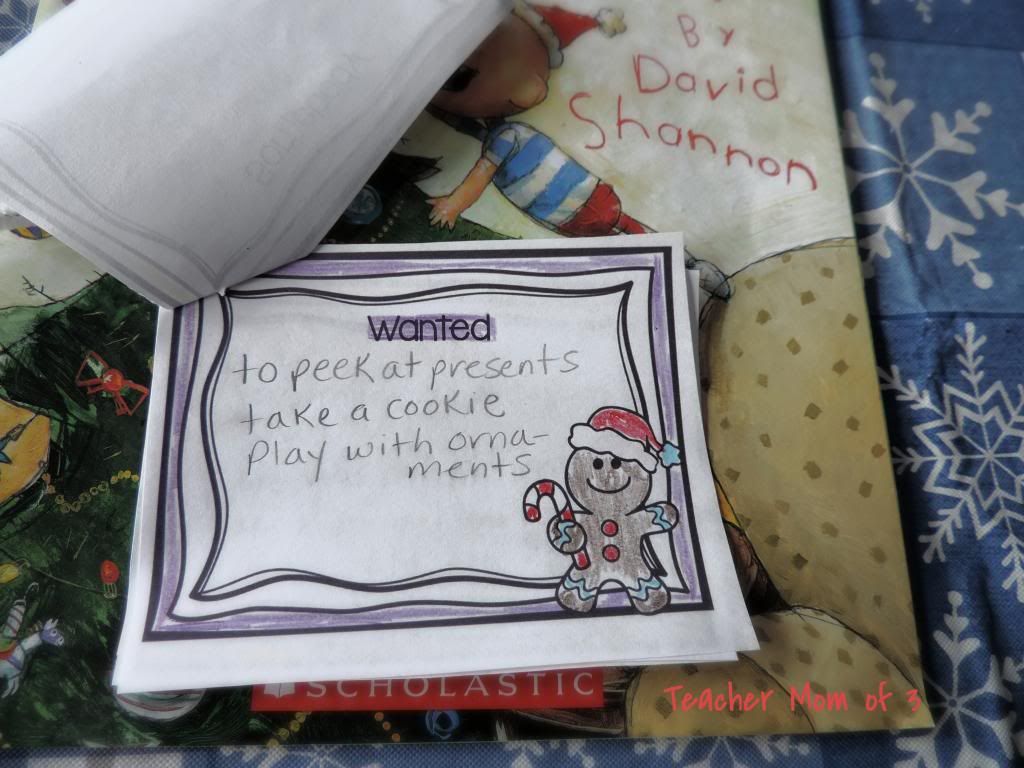 Next, we did a little comparing and contrasting using my mittens diagram ( a spin-off on the Venn Diagram!).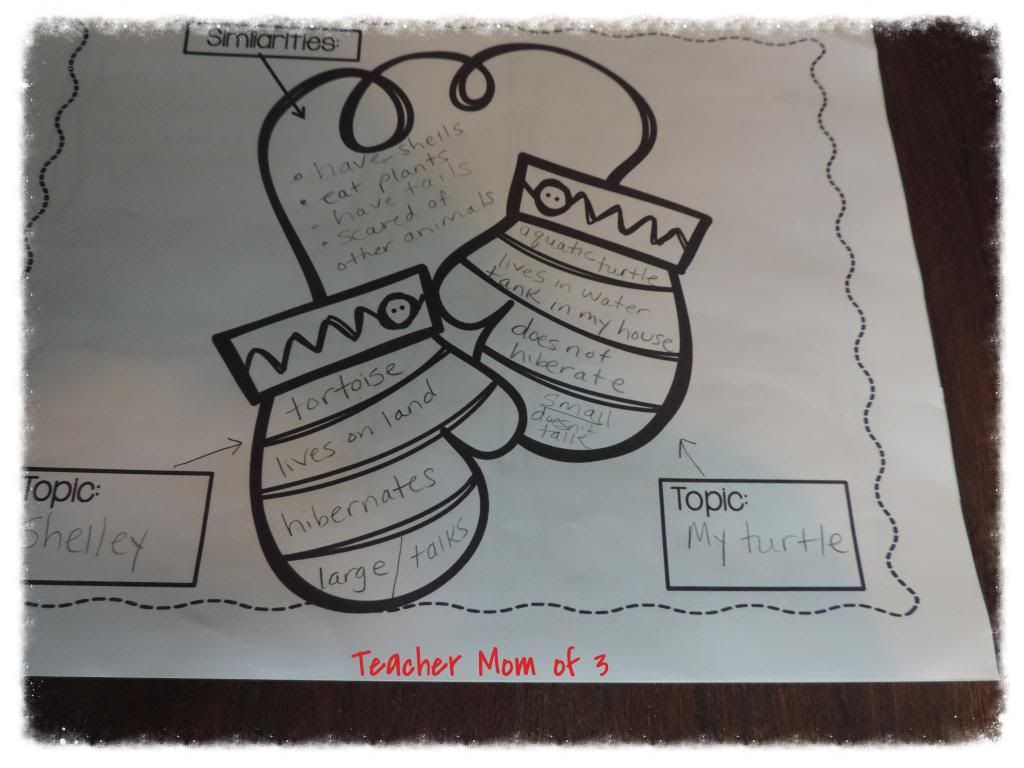 My son compared the turtle in the story to his turtles that are the family's pets.
The comparisons are made in the middle of the string and the differences are listed on the mittens. He enjoyed this, although we did need to work on it together and he ran out of time to color it since I wanted to colors the "pop" and emphasize the similarities and differences.
This is just a little peek into some of the ways you can use my graphic organizers for literature. To see more of the organizers and to read the list of specific strategies that are addressed, you can click here to check out the listing on TpT!
Whether you are still in school or are counting down the days until the holiday break, I wish you all a very blessed holiday season!
Enjoy!