Happy National Library Week! I am not here today, but I have a fabulous guest blogger today who is sharing a fun picture book

to use when teaching telling time. Please give a very warm welcome to my guest blogger today, Jenna, from~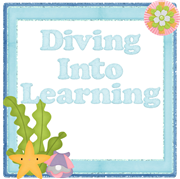 Hi everyone, I'm Jenna from
Diving Into Learning
. I'm guest blogging today! A little bit about me, I have experience teaching Pre-k through 1st grades and I love working with this age group. I love finding fun and different ways to practice math skills. I know when I was in school, I did not enjoy math and surprisingly I now love to teach it. When I am planning for a new math unit, I try to find a story to read to the class that incorporates the skill that we are getting ready to learn. During our telling time to the hour unit, I found this really cute book called "The Clock Struck One."
This is a cute story about what happens on each hour and my entire class was laughing by the end of the book. We have read it a couple of times and it is also available in the reading center for students to read on their own. Along with reading this book, each student made their own book focusing on telling time to the hour. Each page follows the same format and the students fill in the missing time and then they can decorate the clock that is shown on that page. This book (along with telling time to the half hour) can be found at my
Teacher's Pay Teacher's store
. This also led into a writing activity in our writing center where students could write a short story about what happens every hour. I love how reading a book leads to the creation of many activities, plus it shows students that math is all around us, not just on worksheets.
Thanks for reading my post!