Hello there!
It's Beth Ann from Taming My Flock of Firsties.
I wanted to thank Lauren for giving me the opportunity to guest post on her AMAZING blog!!!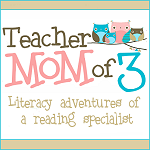 I wanted to talk about Phonics today.
We have been using this for years. I like how easy it is to use. It's very straight forward in each lesson.
They have broken down the lessons into:
Early Literacy Concepts
Phonological Awareness
(and Phonemic Awareness)
Letter Knowledge
Letter/Sound Relationships
Spelling Patterns
High Frequency Words
Word Meaning
Word Structure
and
Word-Solving Actions
They also line up the lessons for the entire year.
This is wonderful because they leave you enough time during the month and at the end of the year to go back over things if needed.
Every lesson has a page with explanations.
Consider Your Children
"This lesson is appropriate when the children have begun to notice the parts of words and can separate first and last parts. They should have some experience changing parts of words to make new words. In this lesson, children work with the rime, or last part of a word. As children explore more complex concepts, consistent language will be helpful; for example, "word parts" for onsets and rimes, "letters" when referring to individual graphic signs, and "syllables" when referring to word breaks." p. 447
Working with English Language Learners
"When children are just learning words in English, it may be hard for them to change the parts of words. Start by showing them words that have the same phonogram by different first letters. Let them notice and talk about the connections. Then explicitly demonstrate how you can take one word and change the first letter to make the other word. Provide many opportunities for practice. Be sure that the children understand the meaning of the words that you are using as examples. Use pictures if necessary." p. 447
You Need...
(a list of resources)
Understand the Principle
"A powerful strategy for decoding in reading or spelling in writing is to make connections between words. Students learn flexible ways of moving from known words to new words by seeing that they know something about the word in question. They can use the first part of last part they know." p. 447
Explain the Principle
"You can change the first part of the last part of a word to make a new word." p. 447
They end with links to Interactive Read-Alouds, Shared Reading, Guided Reading, Independent Reading, Interactive Writing, and Independent Writing.
Expand the Learning
and finally
Connect with Home
Each of these lessons is very detailed and easy to follow.
We have Phonics everyday for 15-20 minutes. This is their mini-lesson and then they have some practice time during Daily 5 Word Work.
It has worked very well in my classroom with Daily 5.
I have made up several products to go with the lessons because although the lessons are very good, the printables are very simple.
This one is for one of the lessons on changing the first and last parts of words.
Here is a BINGO game with sight/high frequency words.
Here is a Compound Word FREEBIE for you.
Thank you so much, Beth Ann for your

informative post and for the FREEBIE! Make sure you stop by her blog to see even more literacy ideas!
Don't forget to enter my giveaway sponsored by Educents and Conscious Box! You could win a box full of all natural, healthy, nontoxic items from food to cosmetics. Winner will be select

ed tomorrow!

You can enter here!
If you are interested in guest blogging for Teacher Mom of 3, please complete the form here. Thank you for your interest!