Please we
lcome my very good
bloggy fri
end, Martha, wh
o is guest blogging for me today.
Martha is extremely creative, and I am so excited to have her share a St. Patrick's Day activity with you. Make sure you stop by Martha's blog when you are finished here and show her some love!
Take it away, Martha!!
---------------------------------------------------------------------------------
Hi everyone! I am so happy to be guest blogging for Lauren. Her blog is one of my favorites. :) My name is Martha from the blog Primary Paradise.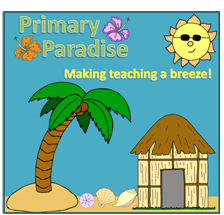 Today I wanted to share with you a couple fun St Patrick's day FREEBIES! I love teaching creative writing. I think it's so fun to see what my students come up with, and I find that they almost always surprise me with their fabulous stories. That's the cool thing about kids, they have fabulous imaginations. Since St. Patrick's Day is coming up, I've been thinking about St. Patty's writing ideas, and I have a fun one for you to today. Before writing, I would suggest reading a fun book about leprechauns such as

That's What Leprechauns Do

by Eve Bunting. It's super cute and super fun! Your kiddos will love it. Then, have them think about what they would do if they met a leprechaun like the characters in the book. You could have them do a quick 4 square or web to organize their ideas. Once they have their ideas down, have them write their story and draw a picture to match it. Click the picture below to download the writing paper.
These would make a fabulous bulletin board for St Patty's Day! If you want to make one, you could also use this free clip art to add some color around your students writing. Just click the picture below to download it. :)
If you like the writing activity, feel free to check out the whole packet by clicking the picture below. It includes Language Arts and Math activities.
That's all I have for you today folks. I want to thank Lauren for giving me the opportunity to be a guest blogger, and I want to thank all of you for reading this!
Martha from Primary Paradise