It's that time again! This is my second product swap hosted by Jessica Stanford, and I am so excited to share with you the product that I reviewed this time around! I was matched with Andrea, also a reading specialist, and author of the blog Reading Toward the Stars.
The product that Andrea gave me to review is her Little Pig Goes

To the Zoo Emergent Reader.
I chose this activity because it looked perfect for my kindergarten son! The day I did the activity my first grade son and my nephew who is in third grade joined in the fun. Although the reader was t

o

o easy for the older two, it was just right for my six year old! Plus, all kids love animals, especially farm and zoo animals, so I knew this reader w

ould grab their interest.
This packet contains the followin

g items:
(10) page printable book, "Little Pig Goes to the Zoo"

One page of (1

5)

characters and se

tting

cards with cute color graphics created by The 3AM Teacher
(9) Sight word cards that are used in the stor

y

Age range: kindergarten, first, and second

grades
One of the setting cards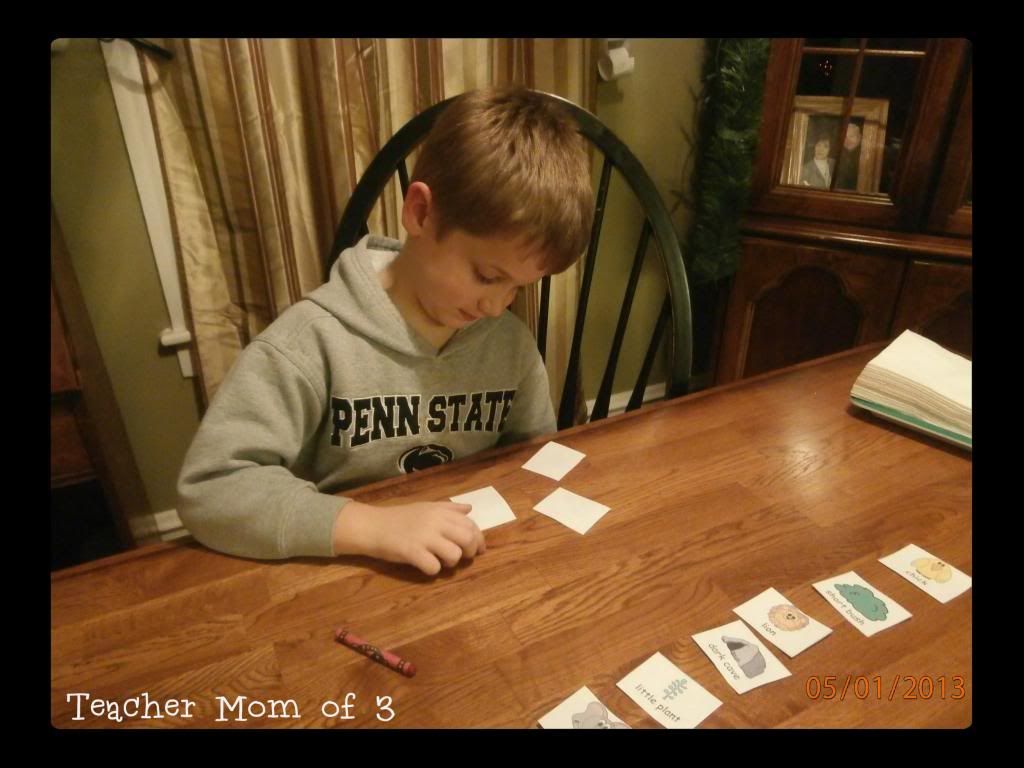 Each child looked at their character/setting cards and then placed on the table
I printed, cut ap

art, and collated the little books

I printed and cut apart the characte

r/

s

etting cards and the sight word cards

I designed a short lesson plan (about

20 minutes) for the activity just like I would have if I had used it in

one of my first or second grade intervention groups.
The first thing I did was give each of the three boys (5) character/setting cards. They looked at the picture and read the word below the card and placed on the table. Afterwards, I had them make a prediction as to what th

e story would be about using the pictures as clues.
Here's a funny little video clip of their "smart guesses". Toward the end, you'll hear

my son telling me that our new puppy is biting something! LOL
Next, my kindergarten son read the sight word

cards

( last, at, then, why, from, little, first, next, went) with a little help from his older brother and cousin.
We read the title and author, and

they refined their predictions.

Then, we read the story to see if their predictions were correct.
The boys wanted to take turns reading, each reading two pages (their idea). Just like in the classroom, I like to give students choices as

much as I can!
As we were reading, the boys would take a character or setting card that matched the content on the page. My kindergarten son knew most of the words; for words he didn't know, he was able to use picture clues or get hel

p from his buddies!
On the last page, Little Pig asks Little Chick why he is at the zoo and says,

"

Let's go home!". I asked the

boys

where home was. The oldest boy answered immediately with, "the

farm" and went back to the first page and pointed to the text. Yes! Great text support!
We discussed their favorite part and then I had them find some sight words or characters by circling them with a crayon. I gave each boy a different word to find since

each reads at a different level.

To finish, I was going to have them do a sequencing activity, but I knew that they had reached their attention span limit (they were still on Christmas break, so I was "pushing" it

as it was!).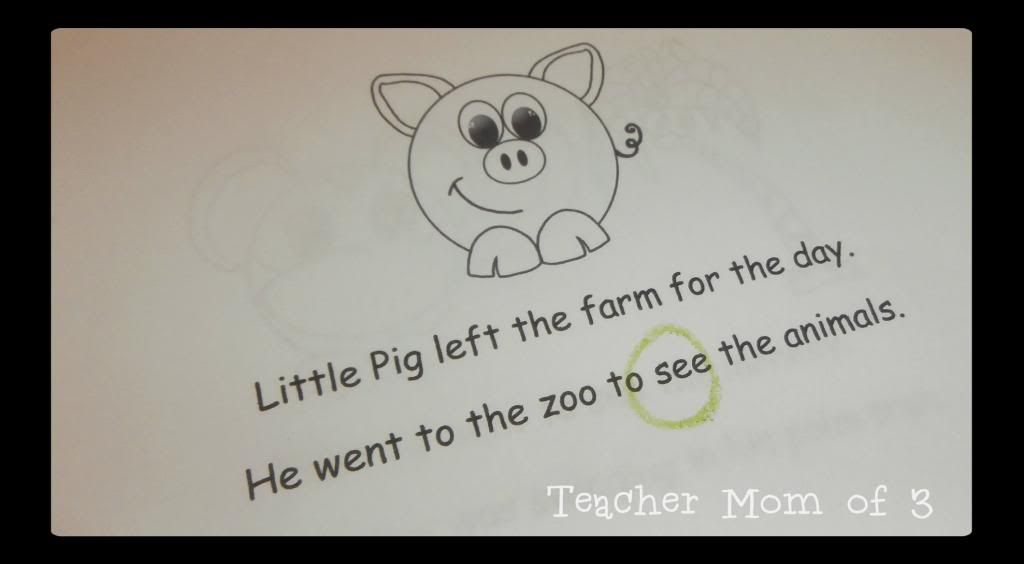 What I Liked About the Packet
The story was just darling! More importantly, it cap

tured the attention of my boys!

Predictable text is used to scaffold learning for little

readers.

The layout of the pages is very simple, not distracting, yet appealing.

Picture clues offered another layer of scaffolding for harder words (i.e., "pond").

The character and setting picture cards can be used before reading like I used them, or could be used after reading for retelling

or sequencing.
This packet is a steal at just $3.00! My boys really enjoyed the activities and my kindergartner has a copy of the book on desk to color. If I were in the classroom, I would definitely use this i

n my reading intervention group for first and second grades. It makes for a great take-home book!
Thank you, Andrea for such a cute literacy packet! Be sure to check out Andrea's blog for interesting and informative posts, including her new

FREEBIE

fonts!! Click the button below to visit Andrea's blog.
And finally.... you can win a FREE copy of "Little Pig Goes To the Zoo" PLUS the packet of mine that Andrea is reviewing, Reindeer Reading.
Just enter the Raffelcopter below for a chance to win BOTH of these packets. The winner will be drawn on Saturday evening, January 1

9

, 20

13.

You can also enter Andrea's

same giveaway on her blog!
a Rafflecopter giveaway