Hi all! My name is Brooke and I am from
Teachable Moments
. I have been teaching for 7 years, the past 2 years on Year 2. But in 2013 I am making the move to Kindergarten! I am super pumped to be part of this 'blog swap' - it is incredible to think that educators from all over the world can collaborate like this (I am from Australia!)
As we are going into a new school year at the end of January (we have our long holidays over Christmas and just go swimming and to the beach lol) I wanted to share some of my 'must haves' for the classroom.
1. Cute, colourful pens - I am always looking for another pen, a little bit different than my last. I am forever putting them down, in my bag, in my desk, on a childs desk and then I forget about it. It is like Christmas when I find it again. But if I walked into this store below, I think I would have to do a happy pen dance.
2. Plastic folders with buttons- This is my kick for 2012 and it will definitely continue into 2013. You put all that time into centres - the cutting, the laminating, the cutting.... I used to store it in huge plastic ziplock bags until I found these beauties at Costco. Now everything is in its place and it looks great too!
3. Velcro dots! - goodbye bluetack, hello velcro. If you are lucky like me and your walls are covered in a 'carpet', you can easily stick and remove. You can get these dots from anywhere - in Australia you can even get them at the hardware store (think Bunnings people). Look around, as at the office supply store you pay a premium! And try cutting them in half too when displaying students work.
4. A great library! All teachers should be building a classroom library - no matter how great your school library may be. And I don't mean go and spend heaps of dollars on books that might get worn out quickly or 'borrowed' and never returned. Go to the 2nd hand shops and grab some bargains. Garage sales are great too. And my library doesn't do this, but some libraries clear out stock on a regular basis. Last year I managed to bag 30 odd kids magazines (think Disney etc) plus 20 books for $5.
5. Some great resources. Now I know we all love TPT. I *heart* it. There are so many great resources on there that you are sure to find what you are looking for. If you want to look in my store click
here
. But last year I found some great ready made resources that my kids always asked for. Pop for Sight words was lots of fun for my year 2 class to revise sight words so I bought Pop for letters for my brand new Kindergarten class for 2013. I bought these on Amazon.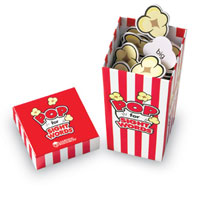 And lastly.....
6. A secret stash of lollies for your drawer or storeroom :) Some days, this is what gets me through... These are my favourite! - Strawberries and Cream. But I have never seen them in a 1.3 KG bag. WOW!!!
I hope your 2013 is a fantastic year :) Thanks Lauren for letting me post at your blog today.
I hope you will all come visit me at Teachable Moments one day soon.
Thank you so much, Brooke, for your fun post!
You can find me (Teacher Mom) at Liv To Teach where I am guest blogging today. Click the button bel

ow and h

op on over and see what I have for you

!