Last August, I was thrilled to learn that I had won the Sa

mson's Classroom

giveaway contest hosted by Angie at Rulin' The Roost! As a reading specialist at a private school, our funds are very limited for resources. A new Smart Board had just been installed in my classroom, so the timing to try out this reading software was just

perfect!
The day after I won, Jessie, Samson's marketing director, contacted me, and I had instant access to this incredible reading resource! Since then, I have had an opport

unity to explore this on-line reading software resource with my students and with my own young sons.
Let me share with you some o

f the highlights of this program and then I have some incredible opportunities for you!
First, Samson's Classroom
offers three different products in their package: Sight Words, Spelling, and Reading. All are for learners from kindergar

ten to grade 5.
Sight Words:
This part of the program offers 224 commonly used words. I have used this with individuals when tut

oring
and in my small intervention groups. There are five different activities: learn the words, build words, identify words, spell the words, and find the missing words. I like the progression of the activities and how the student hears and ge

ts to use the words in context.
Spelling:
I have used this part of the program the most. At the beginning of the week, I add my little one's spelling words to the program. Then, throughout the week, we take a few minutes to play one or more of the games to review the words. There is a Study Zone, Karate Chop, Spelling Scramble, and

W

ally the Walrus. My students love, love the Karate Chop game, and come in begging me to play! They are just now loving Wally the Walrus, which is a bit more challenging as they have to spell the entire word and race to

keep Samson from falling off the ice and into the cold water!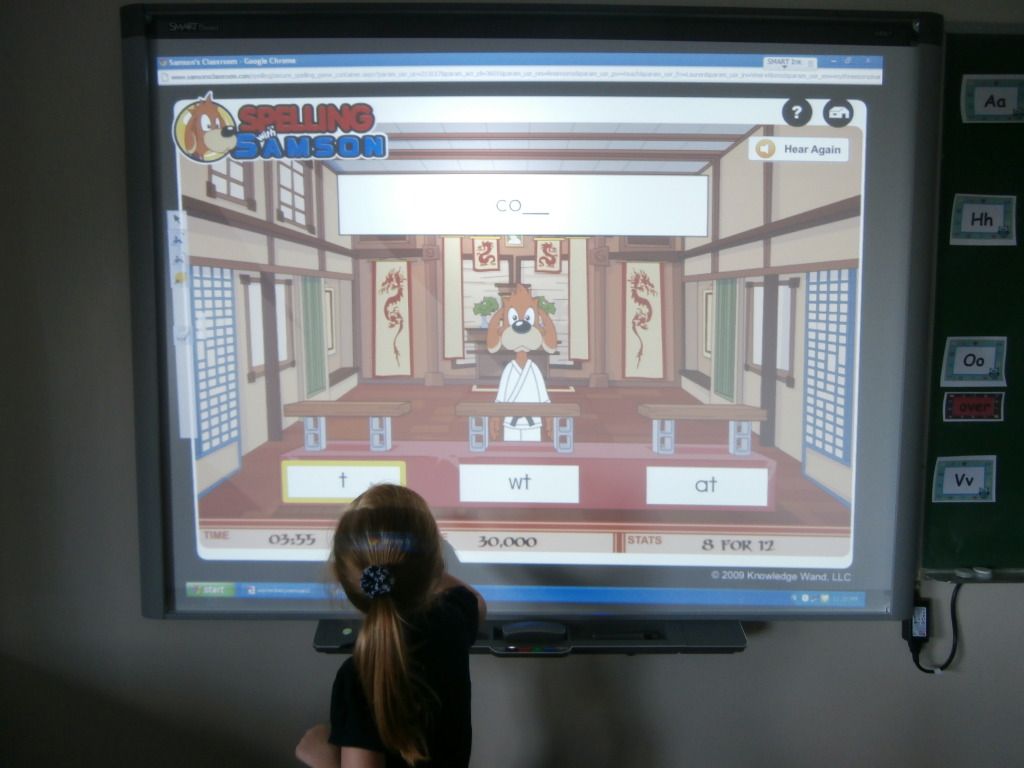 Reading:
This part of the program includes leveled reading passages and comprehension questions that promote critical thinking. The activity is timed so at the end, the student and the teacher can see how long it took the child to complete the activity. I have used this exclusively with the students I tutor after school. Sometimes we read the passage together and other times they read by themselves. After a long day at school, they enjoy reading and answering questions on my S

mart Board.
Why I'm Lovin' This

Software:
The graphics and games are appealing and fun

for

students

and they

love Samson, the ma

scot!
I can customize the spelling words

by creating word lists each week

Once your register your students, the program keeps a record of games and activities they played and the

ir scores.

Activities can be played on an interactive white board or P.C.

Students can use the program at home! Samson's even has customized letters for parents you can print out with their log in information. Parents have thanked me for offering this for them to use to support their child at h

ome.

Students receive immediate feedback and praise as they play the games.

The s

oftware automatically updates so no new downloading is needed.

Jessie, the marking director, is very supportive and offers immediate help via email, should you have questions o

r need assistance.
You can check out the program yourself by watching this short video:
Ok, if you made it this far (can you tell I just love this product?), then here is the really fun part! Samson's has graciously allowed me to give away one classroom account for FREE!!!!! All you have to do is enter below and you and your students will have the second half of the school year to explore and have f

un!
a Rafflecopter giveaway
But wait, there is one more opportunity for

you if you don't win the giveaway!
Between now and December 24, visit Samson's Classroom
and enter the promo code

AMAZON12

to purchase a one-year subscription at $15 off (a 50 percent discount on the single-user plan) AND get a $10 amazon.com gift certificate to accompany the subscription!
After placing your order (using the promo code), you will receive an email containing your Amazon gift card plus a printable holiday card to present to the child. It's a great way to show children how important reading is and give them the ability to purchase their own books.
Enjoy and all the best to

you!