Whew! Where did the weekend go? We enjoyed gorgeous, fall-like weather here in south, central PA all weekend and throughout today. Even though I've been back to school for four weeks, I am still adjusting to my demanding schedule now that I have added TpT and two blogs to the mix! However, I'm lovin' every minute of it and have been so blessed by my fellow TpT and blog colleagues
and followers! Thank you for your inspiration and the myriad of knowledge I have learned.
I wanted you to be the first to know that I finally finished my latest project and now have it listed in my store. As soon as I saw the adorable fairy tale sets from Scrappin Doodles, I knew I had to have them! I used these charming gingham frames from Ms. Fultz's Corner, one of my favorite graphic artists! My fairy tale genre and reading posters set features (27) mini-posters to supplement your teaching of genre and reading strategies.
I designed these to use on my focus wall, and I take them with me when I am visiting classrooms to model lessons. Often, I try to make extra copies to leave with the classroom teacher for students and the teacher to reference and as a "thank you" to the teacher for sharing her kiddos with me.
My focus wall: Header cards available in my store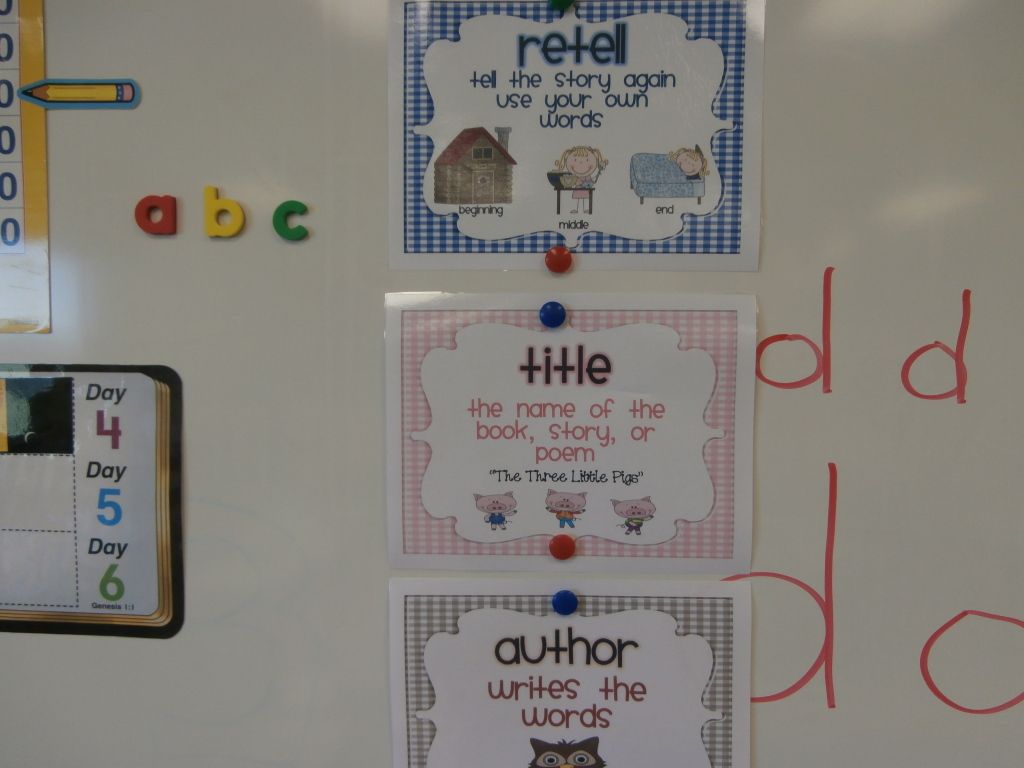 Using my posters when modeling a lesson in kindergarten
All posters feature stories from "Goldilocks and the Three Bears", "The Three Little Pigs", "Little Red Riding Hood", "Jack and the Beanstalk", and "The Little Red Hen". I used simple, "kid-friendly" explanations to make learning and remembering easy for my little readers. Designed for grades kindergarten to second grade, these posters will add some color and fairy tale fun to your classroom! We use the Treasures reading series at my school, I designed these mini-posters to align to our program and to Common Core State Standards.
Grab this "Parts of a Book" freebie poster that is part of the packet here!
Scrappin Doodle License- TPT

55976
If you like it, you can check out the listing for these posters in my store.