My mind has been a flurry of activity this summer, and I seriously think I need an extended brain break! As I have been rereading The Daily Five
and researching best practices, one little nugget has stuck with me: Those who do the most work learn the most! So, I have been reflecting on who is doing most of the talking, explaining, discussing, and learning in my classroom. Is it me? Is it the students?
I have been trained as a specialist to teach with a sense of urgency, and I was pleased to see that the Sisters addressed this in The Daily 5. When I push-in or pull-out, it is imperative that my little kiddos are the ones doing the most work. We learn more by talking, discussing, and doing than we do by being passive listeners. I am a coach, a cheerleader, a facilitator that provides the scaffolding and sometimes guides the learning.
"Tell me and I'll forget; show me and I may remember; involve me and I'll understand."
Other times, I release that power to my students as they take their learning in another direction. Sometimes a student will show interest in a topic or activity and want to explore more. Other times, a student will have a question that guides the lesson instead of my "lesson plan". Sometimes, a student will want to continue working on the white board because she is visual and kinesthetic and needs to stand to learn. It's not like this every day... as we know, the tricky part is knowing when, why, and how to release the power and learning. We can't have a free for all in our classrooms, and we do have CCSS to address and most teachers have some form of accountability assessment. Does this mean that I don't have structure, a strategic and systematic lesson plan? Absolutely not. I spend much time thoughtfully planning my enrichment and intervention lessons based on observations, conversations with the students, and assessments. I must use my professional judgement and create this delicate balance of student-centered instruction.
I have been evaluating my teaching and reflecting upon my instructional routines and strategies. How much time am I spending on before reading activities? Are students spending more time reading or preparing to read? Are they spending the majority of their time listening to me ,or is most of their time spent reading and writing?
And this is why, in my opinion, teachers have embraced the workshop approach for reading and writing, and more currently, The Daily 5 structure.
As I was preparing for an in-service I facilitated on Monday, I was making an anchor chart on anchor charts. This is a new concept for most teachers at my school. I introduced it to a few teachers last year and want to continue the momentum.
As I was working on the kitchen floor, preparing my anchor chart, my 5 year old son (soon to be a kinder!) wanted his own chart paper. He asked what I was doing and wanted to make his own anchor chart. So here is what we were working on: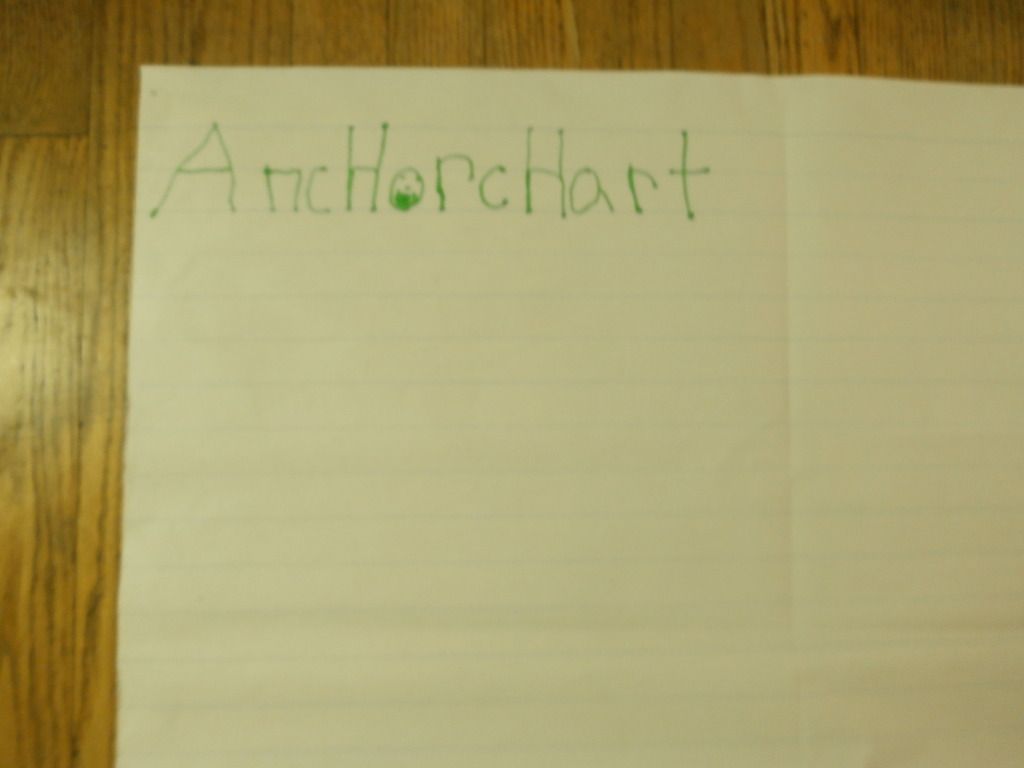 My son's chart... looks like we need to work on adding "meatball spaces" between words!
My sweet son worked on the floor along with me, copying my writing, and telling me about the pictures he would add. The next morning, he wondered why I had not added more to my chart. I have to tell you, I was tempted to, but if I had filled the chart with the important information about anchor charts on the paper, then it wouldn't be an anchor chart. It would be a poster. The chart would be completed during the presentation as teachers and I worked together to learn and record our understanding about anchor charts.
And so it is in the classroom as well. We create these anchor charts from a blank slate with the students. Do I use posters? Yes, I sometimes do and even have a few for sale in my store. But again, why should I create, when I can involve my students and have them take ownership and work with me.
I have a new packet that I created with these reflections in mind, but I will save that for next time.
I would love to read your ideas for fostering a student-centered classroom where the learners are working almost harder than the teacher!