Hmmm... what do speech therapy, smiley faces, and a pool noodle have in common? Well, keep reading and you will find out!
Although I am not a speech language pathologist, I do have a great interest in speech development, therapy, and articulation problems. My youngest son has a speech delay and articulation difficulties. To complicate matters, he also has Selective Mutism, a childhood anxiety disorder, that I have written about before. You can read these posts here , here, and here.
Just mentioning speech therapy causes him to stress. He goes weekly, and although he has been seeing the same therapist for a year, he will not talk out loud to her; he will only whisper. So, I have had to get creative to make practicing his sounds and homework fun for him. As he's practicing his sounds, he gets very anxious and anticipates having to see his therapist and talk out loud.
To make practicing fun, I will take the target words, sounds, and sentences and make a game out of them. I have a few in my TPT store; all are articulation games.
Using the noodle to hold word cards
The noodle also works well as a card holder when playing Uno!
Now today, I had an idea using that pool noodle that I told you about a few weeks ago.
This is what I came up: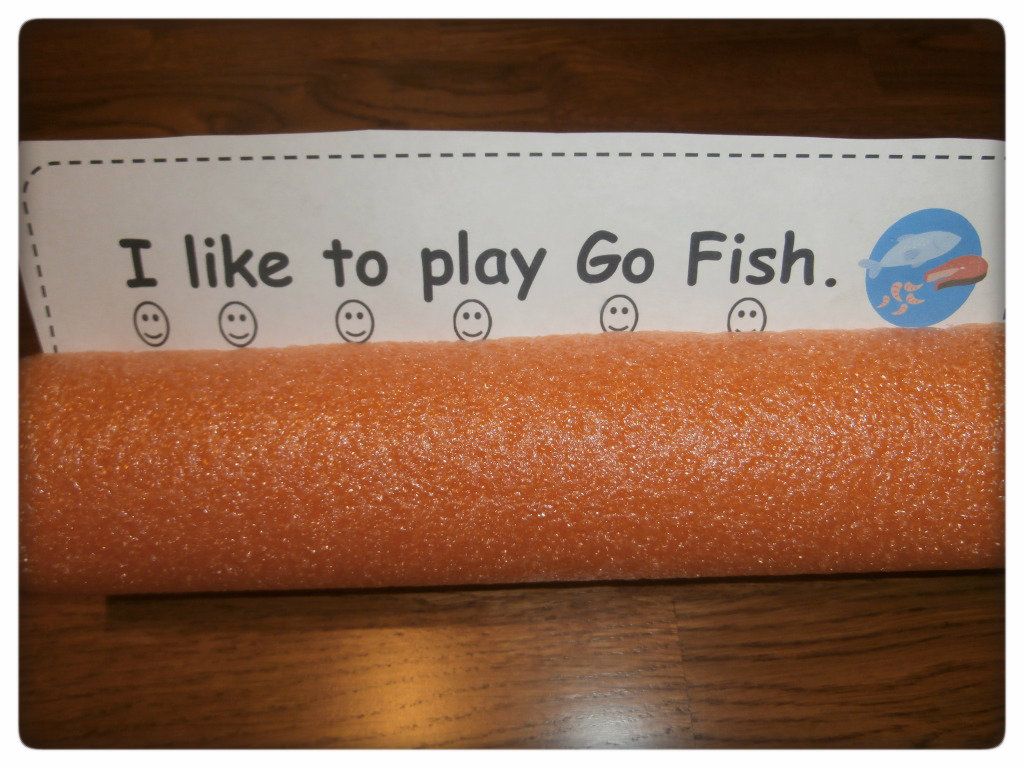 This is what I did:
Used the pool noodle piece I had cut earlier (I cut a 9" piece off the noodle)

I used a box cutter to slice a small slit in the top, going left to right to make a card holder

I took my son's sentences for the target sound of /g/, typed them, adding smiley faces under each word and a matching picture.

I placed the sentence strips in the pool noodle.
Using the noodles makes practicing much more kinesthetic and interesting than the worksheet. One tip: place a marker or chunky pencil behind the noodle so it doesn't wobble or fall backwards.
Because my son is getting ready for kindergarten and is learning to read, I added the smiley faces to work on Concepts About Print, specifically 1-1 matching. He can touch the smiley faces as he reads the sentences to and with me. I can also sneak in a little "lightning word" practice as well!
Click on the pic above to grab a free copy of the sentence strips I made. Hopefully they will be of use to someone who is a speech therapist or they can be used with reading.
If you have any fun ways for kids to practice target sounds, specifically /k/ and /g/ please share! I'd love to read them!
Happy Monday!