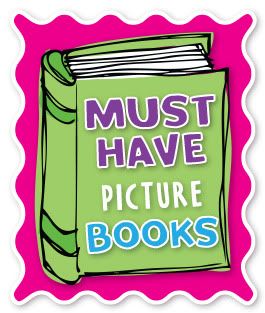 Oh, this is so, so fun!
I'm linking up with Lindsey from The Teacher Wife for a linky party to share our favorite picture books! How in the world will I choose? I cannot say that these are my favorites because I have about a million favs. But, I can say that these books are my new favorite picture books!
I Knew You Could! A Book for All the Stops in Your Life by Craig Dorfman. My very second blog post back in May was about this book and how much I love it! The book's sweet, encouraging theme picks up where The Little Engine That Could Leaves off. I bought each of my first grade intervention students a copy as an end of the year gift. I even bought one as a high school graduation gift for my oldest son! You can read my review here.
2. Cloudette by Tom Lichtenheld. Here's another touching and humorous story about a little cloud who wonders if she has anything important to contribute. She finds her silver lining and discovers what a big difference a little cloud can make!
3. Hot Rod Hamster by Cynthia Lord. This hilarious, predictable, rhyming story was a favorite with my students for take-home reading. Join little hamster as he visits a junkyard and builds his race car for the "Hot Rod Race". Who will win the race?
Speaking of Hot Rod Hamster, I have a literacy packet in my TPT store that I created for my intervention group.
The packet features adorable, custom made clip art by Charlotte's Clips from TPT.
4
.
Alphabet Rescue
by Audrey Wood. My two sons who know their alphabet quite well adore this book and never tire of rereading! Of course, they love the firetruck theme and how the lowercase letters come to the rescue. This is kind of like a sophisticated Chicka Chicka Boom Boom!
5. ... and my final choice is... Curious George Tadpole Trouble by H.A. Rey. This hysterical and informative book about the lifestyle of a frog is a must-have if you study frogs! My boys love it especially since we have three tadpoles of our own, and they can make many text-self connections with George's antics!
I am going to stop myself here and check out all of the picture book recommendations at The Teacher Wife.

Head on over to her blog and join the fun!