Well, I was all set to take a little bloggy break this weekend, but then the boys and I went to the dollar store. And in the dollar store were all these noodles. You know the ones- the pool noodles. Now, that is not what I went there for. Actually I went to get clip boards and a few other materials I need to make a few things for my boys and for my students. But then I saw the noodles. And then I remembered something my dear friend, Wanda, briefly told me about on the last day of school about noodles.
She had just returned from a workshop. I don't even remember what kind of workshop it was or who the presenter was. What I do remember is that she learned how to make letter holders out of noodles for making words. And that is why she had several noodles in her classroom. Here, I thought she was going to the pool to celebrate the last day of school!
So I filed that intriguing tidbit away and then remembered it today! Of course I bought a noodle and thought about it all day! I use Cunningham and Hall's Making Words for kindergarten and first grade in my intervention groups. Love it!
My letter holders are not fancy. I use a file folder as the authors suggest and sometimes I use magnetic mats if I am using magnetic letters. But, now I can use a noodle. Well, at least part of one! I wasn't exactly sure how to do it... I grabbed a pair of scissors and cut a 9.5" strip. Then I cut a slit in the top from end to end.
I placed letters in the slit and there you go! A cute little making words holder! So then my husband came home and wondered why dinner wasn't made and why I was cutting noodles. I asked if he could grab a pair of box cutters and I made these-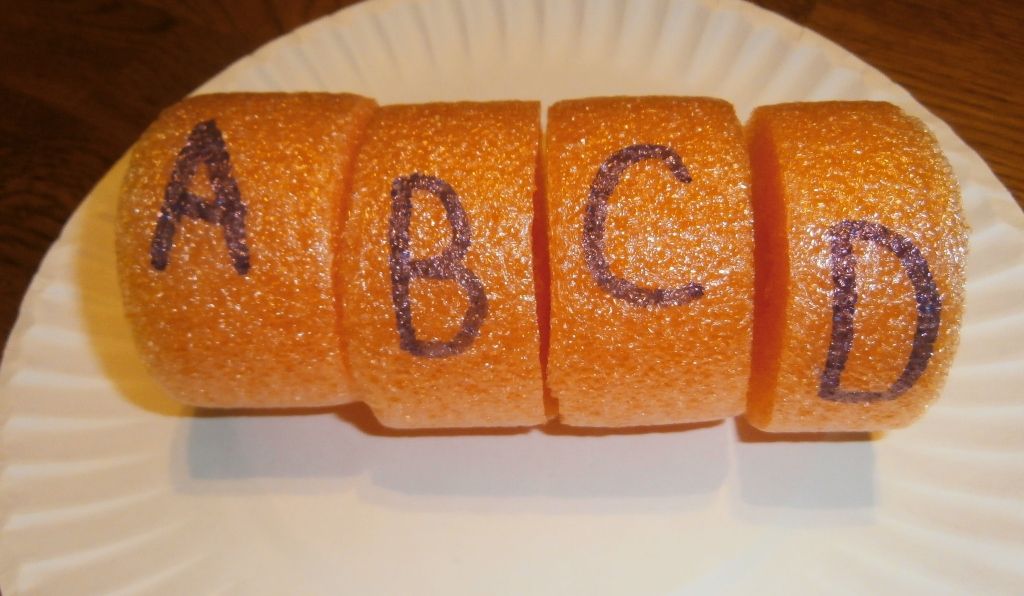 I found this idea in my search today when I wanted to see what else was out there (and there is a LOT!). I cut little circles and added letters with a Sharpie. Kids can lace them on a piece of yarn in order, play matching games, make words- the possibilities are endless! And they have a neat texture that will appeal to kids!
So, I thank my friend Wanda for sharing this with me. I wasn't planning this today, but I'm so glad I did!
Please let me know how you use your noodle!
Have a super duper weekend!